Q&A with Dan Lamb
Dan にききましょう!
Why is the Cotswolds such a beautiful area to visit?
I love the changing landscape of the Four Seasons of the Cotswolds, and the beauty of nature all around us. The combination of green countryside and idyllic honey-coloured stone buildings means that you can feel relaxed wherever you go in the Cotswolds, and there is always something new to appreciate. In spring and summer the countryside is full of the warmth of life, and in autumn the changing colours of the leaves seem to be taking over everywhere you look.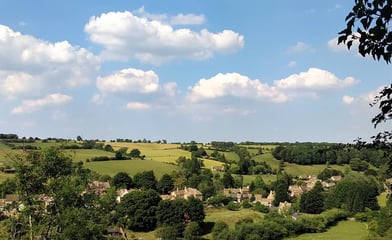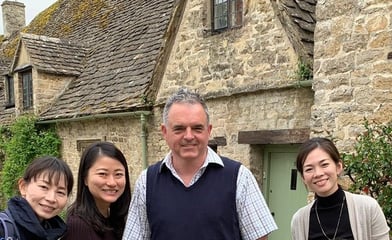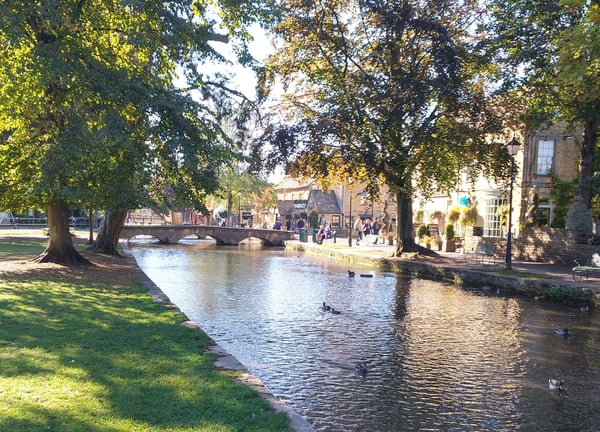 Q&A with Dan Lamb
What do you most enjoy doing in the Cotswolds?
The best thing is enjoying the beauty of nature, and for me it is a pleasure to walk on Cotswolds footpaths through the fields and trees or to cycle along country lanes, stopping at a pub garden for refreshments. As a family we often go out for a walk or a bike ride, to enjoy the beautiful surroundings nearby - and it is a pleasure to show friends and visitors around and take them to our favourite places, helping them to make the most of the countryside, as well as the various cafes, pubs and restaurants. The surroundings of the Cotswolds make it so easy to relax here.
Q&A with Dan Lamb
Is it easy for you to combine your different jobs as a teacher, trainer and tour guide?
One good thing about my work schedule is that I can arrange my appointments and commitments in order to ensure that I am not overwhelmed by trying to fit in more than the time allows - and there is so much variety in my work that I enjoy being busy. It is fun meeting new people, helping them and listening to what they are interested in, and my different jobs all enable me to do that so I feel lucky to be doing what I do. With residential English and tour guiding I also enjoy helping people to make the most of the time they have in the UK, especially if they can only stay for a short time: I can give lots of recommendations and ideas to help people to fit as much in as possible during the time they have.
Q&A with Dan Lamb
When is the best time of year to visit the Cotswolds?
It depends what you want to see or do in the Cotswolds but it is important to avoid the UK school holidays if possible, especially July and August when everything is busier than usual - so March, May and June are possibly the best months to visit, especially as many different flowers bloom at different times during the spring and summer. In addition to that, the autumn colours in September and October are a delight for any visitor - and the winter is beautiful in its own right. In truth, there are so many wonderful things to see and do all over the Cotswolds that any time of year is a good time with the right planning, even the peak season of summer holidays.